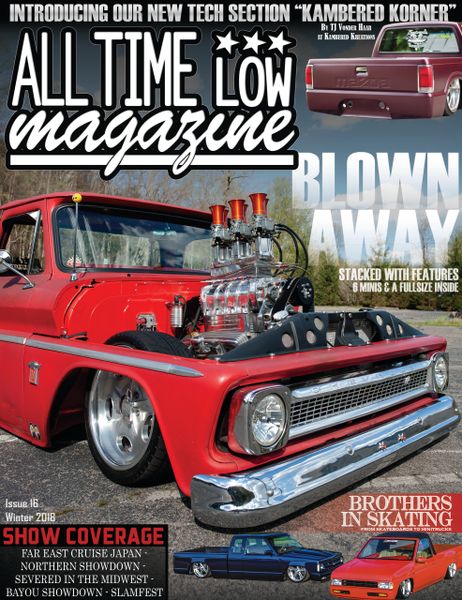 Issue 16 (Winter 2018)
Issue 16, the final one for 2018, is now ready to order!!!  
This one is STACKED with features and content.  We have 7 features in this issue ranging from a blown fullsize to 6 mini's scattered around the world.  We have two features from Japan and crossed north of the border to Canada for our first feature there.  We also have crossed north to get coverage for Northern Showdown, shot by Dave Thomas. There is also a dual feature inside with Jeremiah Johnson and Tim Davis, two long time friends with shared passions with skating minitrucks and skateboards.
HUGE NEWS!!!  We also have our first article for our new tech section, Kambered Korner.  We are excited to team up with TJ Vonder Haar with his shop Kambered Kreations to help start bringing continuous guidance in the garage.  In this Issue you will see how to properly install a new bed floor after a bodydrop.  
7 Features include:
Dave Schneider on the cover with his '65 C-10 "LOW BLOW"
Kris Smith on the back cover with his '92 Isuzu Pup "RELAXEDZU"
TJ Vonder Haar's '89 Mazda b2200 "RAISIN' HELL"
Jeremiah Johnson's '93 Chevy S-10 "BLUEDINE"
Tim Davis' '95 Nissan Hardbody "d21 CALIFORNIA"
Satoru Nohara's '96 Chevy S-10 "NOT YOUR AVERAVE S-10"
Hiroya Yoshimura's '97 Toyota Tacoma "I WOULD TRUCK 6,000 MILES"
SHOW COVERAGE:
FAR EAST CRUISE JAPAN - NORTHERN SHOWDOWN - SEVERED IN THE MIDWEST - BAYOU SHOWDOWN - SLAMFEST                                
Shipping will start 1st week of January
Featured Products